OCD Oregon
OCD Oregon is an affiliate of the International OCD Foundation. Established in January, 2017, OCD Oregon was created to increase awareness, education, and provide resources to those who live with OCD.  As an affiliate of IOCDF, OCD Oregon promotes inclusiveness among those with OCD and their family members.  The board of directors is made up of individuals who have lived with OCD, expert clinicians in Oregon, and other mental health professionals.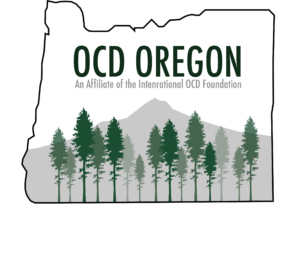 President
Kevin Ashworth, M.A., LPC. Kevin is a licensed therapist in Oregon and a founding board member of OCD Oregon where he serves as the President. Kevin is passionate about treating OCD and dedicated to destigmatizing OCD and mental illness. In his free time, Kevin enjoys spending time with his family, completing DIY projects, and playing with his dogs. 
Vice-President
Dr. Bob McLellarn, PhD. is a licensed Clinical Psychologist in Oregon and founding board member of OCD Oregon where he is currently serving as Vice President. He has focused most of his career on the understanding and treatment of OCD and related anxiety disorders. Dr. McLellarn is pleased to be part of OCD Oregon and looks forward to increasing awareness and providing assistance to those suffering from OCD. When not working at his practice, Dr. Mclellarn enjoys time with his family, reading, working out and visiting the Oregon Coast
Treasurer 
Adam Brown is a founding board member and serves as the Treasurer for OCD Oregon.  Adam has a master's degree in Conflict Resolution and has worked in various capacities in the public sector, including finance, and as health insurance coverage expert in the private sector.  Given the challenges OCD sufferers often face in getting insurance coverage for the care they need, Adam hopes to use his knowledge of the industry to help local families navigate coverage requirements and hold their insurance providers accountable. In his free time, Adam enjoys spending time with his family, traveling, and getting outdoors.
Secretary
Shel Seaver is a founding board member and Secretary for OCD Oregon.  As a registered nurse, she works with children and adolescents who are experiencing a mental health crisis.  She is also currently working on her doctor of nursing practice degree as a psychiatric mental health nurse practitioner.  Shel has lived with OCD for over 20 years, and understands the frustration and heartache one experiences when trying to grapple with OCD and find appropriate treatment, which is why she is thrilled to help bring an IOCDF affiliate to Oregon. Shel draws encouragement from this quote by Carrie Fisher, "We have been given a challenging illness, and there is no other option than to meet those challenges."
Board Member
Ron Prevost is a founding Board member of the OCD Oregon affiliate.  Ron is also on the Board of the national IOCDF with headquarters in Boston.  He is  retired from a management career in Research and Development at Hewlett Packard.  Ron lives in Corvallis with his wife, Mary.  Ron and Mary have 4 children and 7 grandchildren.
Board Member
Paige Anderson, DNP, PMHNP is a Psychiatric-Mental Health Nurse Practitioner and a founding Board member of the OCD Oregon affiliate. Prior to becoming a PMHNP, Paige worked as a Registered Nurse at a Portland-area hospital. She received her Master's in Nursing and Doctor of Nursing Practice degrees from Oregon Health & Science University. She helps clients with OCD using medication or a combination of medication and therapy. She is interested in advocacy and educating providers about evidence-based practice for OCD. Paige lives in NE Portland and enjoys drinking iced coffee, walking her neighbor's Australian Shepherd,  traveling, and collecting stamps in her National Parks Passport.
Board Member 
Dr. Jill Davidson, PsyD is a licensed Clinical Psychologist. She is a founding Board member of the OCD Oregon affiliate and sits on the board of the Oregon Psychological Ethics Committee. Dr. Davidson is committed to continuing her education, research and training of OCD and related conditions. She stays current with efficacious and effective treatment developments and is committed to the dissemination of research and bridging the gap between research and practice. Outside of a busy practice, Dr. Davidson enjoys spending time with her husband and young daughter. She is an animal lover and has two rescue dogs that she enjoys taking on long hikes. She is also an avid equestrian.
Members
OCD Oregon Members are made up of individuals who live with OCD, family members of those suffering, providers, researchers, and anyone else interested in developing awareness, supporting, or treating OCD in Oregon and SW Washington. When you become a member you are supporting the OCD community in your area. You will also receive the IOCDF newsletter. Membership dues to the IOCDF are distributed to OCD Oregon to help provide resources and education. Become a member